Work
Ocean Collectiv designs, builds, and implements creative and practical solutions for a healthy ocean. Our collaborative of experts supports clients in advancing ocean sustainability, grounded in social justice. We provide fresh ideas on policy, science, and commerce. For each project, we tailor the ideal interdisciplinary team from our diverse roster of experts.
Services
Program Innovation

Program strategy and design
Communications strategies
Business plan development
Philanthropic grantmaking strategies
Legislative strategies and policy roadmaps

Community Building

Engagement strategies
Event curation and moderation
Public speaking
Workshop facilitation
Network expansion

Research and Analysis

Landscape assessment and gap analysis
User research
Socio-economic surveys
Expert vetting
Grant writing
Areas of expertise
Ocean zoning/spatial planning
User-centered design
Virtual reality
Marine protected areas
Fisheries management
Legislative and political strategy
Coral reef conservation & restoration
Science communication
Imagery & design
Maritime archaeology
Seafood marketing & retail

Environmental justice
Storytelling and filmmaking
Aquariums and science centers
Aquaculture
Water resource management
People-sea connection
Exploration & robots
Ocean education & literacy
Digital technologies & ICT
Maker movement
Prizes & challenges
Clients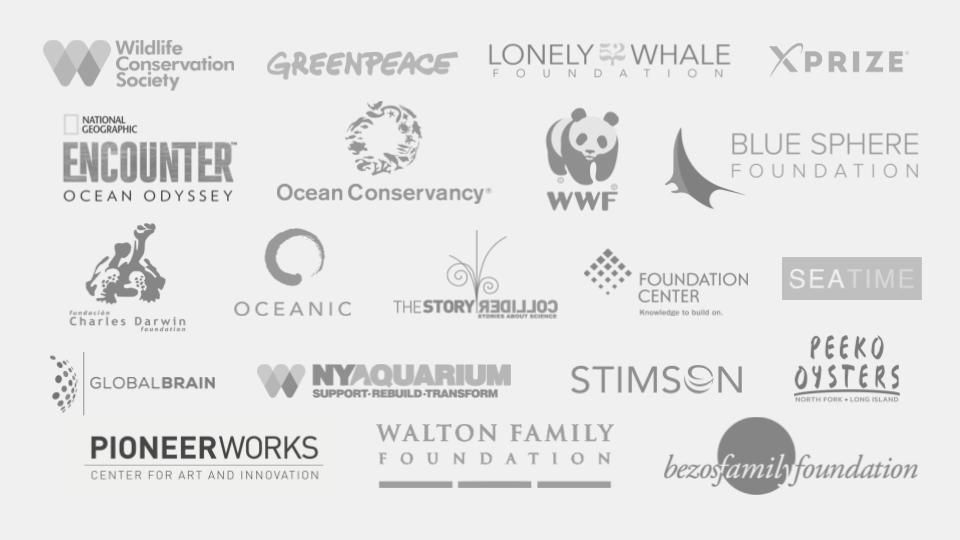 Some clients signed under Ayana Elizabeth Consulting LLC, prior to formation of Ocean Collectiv.
Case Studies
Envisioning urban ocean conservation

Client: Wildlife Conservation Society & NY Aquarium

How can New York City become a global leader in ocean conservation? The process starts with creating an ocean ethos amongst New Yorkers, includes a focus on sustainable seafood, employs the lens of social justice, and requires pushing for significant policy changes. The vision: a future NYC with healthy, accessible waters, a thriving blue economy, and vibrant coastal culture. To develop a strategic plan to realize that vision, we conducted a landscape assessment of existing efforts, interviewed dozens of local experts (including scientists, philanthropists, educators, activists, and artists), facilitated an internal workshop, and identified promising potential partnerships.

Leveraging technology to unlock ocean data

Client: XPRIZE

There is a wealth of ocean data, yet little of it is being used. This information (sourced from shipping, fishing, and public safety records) is not easily accessed, analyzed, or visualized. Seeing the immense potential for the private sector and for the public, XPRIZE created a competition to facilitate use of this valuable information. We developed the detailed concept and guidelines for the Big Ocean Button Challenge, a prize for the best apps using ocean datasets. For this project we interviewed scientific and technical experts, identified promising datasets, designed the competition and judging criteria, leveraged our network to recruit entrants, and supported the application and judging process. A total of $100,000 in prizes will be awarded in late 2017 for apps that address fishing, shipping and trade, ocean acidification, public safety, and exploration. For more, see Ayana's National Geographic blog post: Hey Developers, Wanna Make an App to Help the Ocean?

Testimonial: "Ayana is the most driven person I have ever worked with. She delivers excellent results on short timelines, with grace and humor." – Matthew Mulrennan, Director, Ocean Initiative, XPRIZE

Protecting coral reefs in a changing climate

Client: Greenpeace

Greenpeace has a flagship campaign to combat climate change, and has active ocean conservation efforts. The organization is considering expanding their work on coral reef conservation, and wanted support with scoping and strategy development. Based on interviews with her network of experts, Dr. Johnson produced a report to help guide decisions about potential campaign work to protect coral reefs. The report included recommendations on campaign strategy, policy goals, and site selection, as well as a gap analysis to assess where Greenpeace could add the most value.

Testimonial: "Ayana tackled a large and complex task and delivered results that will help shape Greenpeace's work to protect reefs. She was easy to work with, receptive to feedback, and stuck to deadlines. You should probably hire her." – John Hocevar, Director of Oceans Program, Greenpeace USA

Building a grassroots movement for science

Pro-bono: March for Science

A group of scientists came together in the winter of 2017 to sound the alarm that "science, scientists, and evidence-based policymaking are under attack. Budget cuts, censorship of researchers, disappearing datasets, and threats to dismantle government agencies harm us all, putting our health, food, air, water, climate, and jobs at risk." Dr. Johnson was one of 8 core members of the national organizing committee, and served as co-director of partnerships and a member of the diversity committee. Her team built a broad and diverse coalition of almost 300 organizations that value and extol the role of science in health, economy, security, and government. She recruited Kate Gage to join the team, and Ms. Gage became director of operations and then interim lead of the entire March for Science organization in the post-march transition. For more, see Dr. Johnson's blog posts I Never Thought I'd Be Marching for Science (Scientific American) and Reflections on the March for Science (National Geographic).

Testimonial: "Ayana Johnson joined the March for Science team in the first two weeks and was immediately invaluable. She spearheaded efforts to partner with a diverse group of organizations, expanding the march's coalition of science supporters, and engaging established scientific leaders and institutions in building a grassroots movement. Ayana recruited Kate Gage, who became director of operations for the march. Kate, equally invaluable, brought her impressively broad skill set and network, which were also key to the march's success." - Caroline Weinberg, Co-Chair, March for Science
Back To Top